As a former Director of the South Metro Denver Realtor Assocation (SMDRA), Victoria served as Chair of South Metro Denver Realtor Association Philanthropies, 2014-2017
HABITAT FOR HUMANITY Build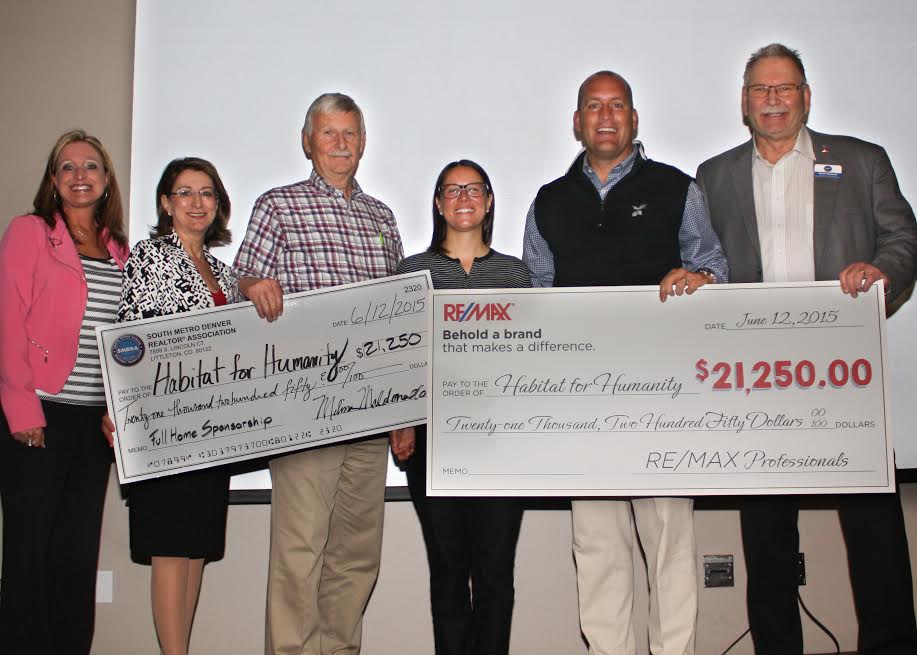 So proud of the South Metro Denver Realtor Association and all the hard work of SMDRA Philanthropies (Formerly SMDRA Charities), Realtors and Affiliates who have raised $21,250, and RE/MAX Professionals, for donating another $21,250 for Habitat For Humanity Half-A-House build. Together, we presented $42,500 to Jeannie Frischetti from Habitat for Humanity at our Friday Morning Marketing Meeting! We are excited to participate in this house build! Pictured: Melissa Phillips Maldonado CEO of SMDRA, Victoria Gartelos, Chair SMDRA Philanthropies, Jim Hatfield, RE/MAX Professionals, Jeanne Fischetti, Habitat for Humanity, Brad Whitehouse, RE/MAX Professionals and Steve Konecny, SMDRA Chair.
— with Steve Konecny and Melissa Phillips Maldonado at South Metro Denver Realtor Association.
Other Grants awarded included to: The Kempe Foundation, Re-Build Denver, and James Resource Network. The annual SMDRA Toy Drive benefits Boys and Girls Clubs of Denver.